Digital Speedometers UK supplier
Acewell Digital Speedos for motorbikes, cars and kit cars
Digital speedometers are an excellent choice for replacing outdated analogue speedometers on motorcycles, cars quad bikes and kit cars
Digital Speedometers - Accurate, Reliable, and Easy-to-Read
A digital speedometer provides accurate and reliable speed readings, making it easier for drivers to stay within the speed limit avoiding speeding fines.
Features:
Digital speedometers come with a range of features that make them the ideal choice for any driver.
Accurate Readings: Advanced sensors and technology provide accurate speed readings, even at high speeds and on rough terrain.
Large, Easy-to-Read Display: The large, clear digital display makes it easy to read your speed, even at a glance. This helps you keep your eyes on the road and avoid distractions.
Customizable Settings: You can customise the settings to suit your specific needs, including changing the unit of measurement from mph to km/h, adjusting the brightness of the display and more.
Simple Installation: Digital speedos are easy to install and can be fitted to almost any vehicle so you can have it up and running in no time.
Benefits:
There are many benefits to using a digital speedometer, including:
Improved Safety: By providing accurate speed readings, a digital speedometer can help you stay within the speed limit and avoid accidents.
Avoiding Speeding Tickets: With accurate speed readings, you can avoid costly speeding fines.
Improved Fuel Efficiency: By maintaining a consistent speed, you can improve your vehicle's fuel economy.
Easy-to-Read Display: With a large, clear digital display, you can easily monitor your speed, even in low light conditions.
Conclusion:
A digital speedometer is an essential tool for any driver who wants to stay safe, avoid speeding tickets, and improve their fuel efficiency.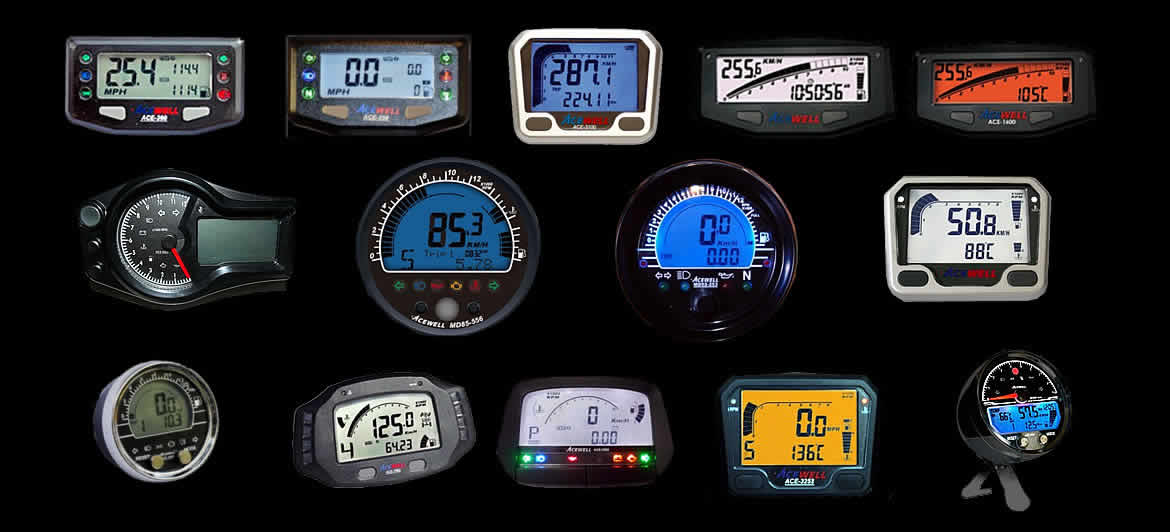 Acewell Digital speedometers are ideally suited for many requirements. Recommended for cars, motorbikes, quad bikes and kit car builds.
Typical applications for digital speedometers
Motorbikes
Any biker who has had a been unlucky enough to have had an argument with a car will more than likely have come off worse. Even more likely is that the original manufacturers clocks on the bike will have been damaged. The solution is replace them with a cost effective Acewell digital speedo. There is a wide range covering all needs.
Kitcar & project/custom car builders
Something as simple as changing a wheel or tyre size can be enough to make the existing speedometer innaccurate. There are essentially two options.
1. Recalibrate the speedo - The expensive option!
2. Replace with a digital speedo from the wide range available covering all needs - The cheaper option!

Quad Bikes
Any quad bike that was originally designed for off road use will not have a speedo, however they can be converted for road use and one of the requirements is that an accurate speedometer must be fitted. The simplest and usually the cheapest way to fulfil this requirement is to install a digital speedo.
Driving school cars
There are many cars (such as Vauxhall Corsa & Toyota Yaris ) where the factory fitted speedometer is not viewable from the passenger seat. This is then a problem where those cars are used by driving schools. The simple and most cost effective solution is to fit a GPS speedometer in a position where the instructor can see it.
Racecars & Track days
The range of Multi-functional Acewell digital speedos are ideally suited for racecars and track days for the additional on board features (and some even store in memory even when the power is off) they offer especially where you are not allowed anyone else to time you on trackdays.
Digital tachometer
Trip meter
Average speed
Maximum speed
Riding timer
Total riding timer
50 Lap timer
Current Acewell digital speedos
To see the whole range and find out more details, visit the UK stockist Furore Products.
Any pre sales questions are probably already covered by their FAQ page, However if it isn't, then contact their knowledgeable staff who will be able to answer any questions you may have prior to purchase.